"I have been listening to Ariana's Interviews, and have received so many real Seeds of Wisdom, that have touched me, reminded me and caused my heart to weep sometimes with Joy! I walk in my own Wisdom with myself, and feel grateful for the time I have had to work through what I came here to be …and continue to become, each day that is given to me." RS
Click Here For Unlimited Access to All Summit Interviews & Bonuses!
Purchase TODAY for
ONLY $147
Your All-Access Pass includes the following:
+ Watch all 20+ sessions at any time, from anywhere, starting on day one. No waiting for the next interviews to be released. No missing out because you couldn't watch in the 48-hour window. You get early access to all the speakers' free gifts and other offerings. AND, you'll have online access to all video interviews through December 17. 
+ Option to download all of the videos, PLUS
+ Downloadable audio of all interviews (MP3's)
+ Transcripts of Riane Eisler's and Barbara Marx Hubbard's interviews
(our eldest wise women)
+ NEW Bonus interview – just added 8/30! Dr Maria D Michael – After the Sun Dance – messages from Spirit. A call to action.
+ Bonus interview with Chansonette Buck, PhD, poet
On competition with her mother, childhood trauma, and writing as a path for healing
+ Ariana's Channeled Healing Message – Healing Our Shadow
+ Ariana's Owning Your Value exercise
+ NEW Bonus Ariana's Oracle Message – guidance from Spirit for purchasers.
The Owning Your Value exercise is designed to help you see and appreciate the breadth and depth of all that you are, and the value of your life journey. It will assist you  in shedding the devaluation of the feminine, of traditional women's work and women's values, and of elder women, that our culture has taught you.
More Inspiring Testimonials
"Thank you so much for this wonderful gift of a Summit. We in South Africa have so much to heal and have found much inspirational. Blessed Be" DV-S

"This was perfect timing for me as I have been going through a total transformation (physical, mental/emotional and spiritual) for well over a year. I turned 60 this past May and feel like I am becoming a totally new person and I love it!. I found this summit from following Barbara Marx Hubbard who I could listen to all day long, every day, lol. Thank you for introducing me to so many other amazing women and their wisdom." VS

"So enjoyed hearing from and being inspired by such a great variety of women, some of whom I've never heard of. Expanding my world! We have a year-long program for "Becoming a Wisdom Keeper" here at Sacred Groves so this summit is a great inspiration for our work here.
THANKS for bringing us all these great women!" TC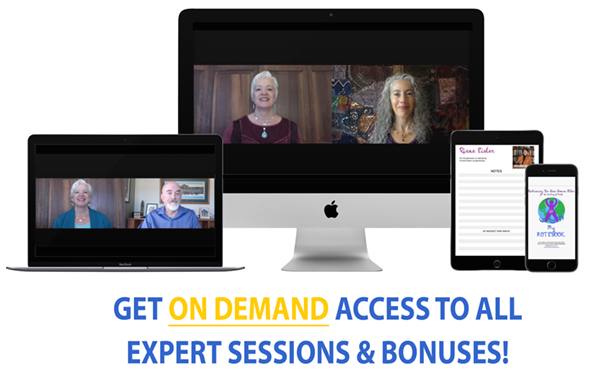 Secure Your All ACCESS PASS FOR THE LOWEST PRICE TODAY!